Architect & Design Library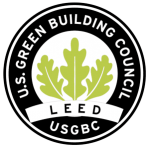 American Syn-Turf takes great pride in its commitment to sustainability and environmental responsibility. As an esteemed member of the U.S. Green Building Council and LEED Certification (Leadership in Energy and Environmental Design), we actively contribute to the goal of creating greener and more energy-efficient buildings and projects. By choosing American Syn-Turf for your synthetic grass needs, you can earn valuable points towards LEED certification, further emphasizing our dedication to sustainable practices.
One of the significant environmental benefits of installing American Syn-Turf is the elimination of water usage. It is a well-known fact that a substantial portion of residential water consumption, approximately 70%, is dedicated to outdoor irrigation. By transitioning to synthetic grass, you not only achieve a vibrant and low-maintenance lawn but also play an active role in conserving one of our planet's most precious resources - water. Your decision to embrace synthetic grass contributes to the "Go Green" movement and helps reduce water waste.
The use of American Syn-Turf also enables the accumulation of LEED points in key categories such as Water Efficient Landscaping, Recycled Content and Materials, and Innovative Design. Our synthetic grass products are designed to promote water efficiency, utilizing recycled materials, and showcasing innovative design techniques. These features not only provide you with a visually appealing and functional landscape but also demonstrate your commitment to sustainable building practices and environmental stewardship.
By choosing American Syn-Turf, you are making a conscious choice to create a greener and more sustainable future. Join us in our mission to conserve water, reduce waste, and build environmentally responsible spaces that contribute to LEED certification and a healthier planet for generations to come.
LEED points can be accumulated with the following categories: Water Efficient Landscaping, Recycled Content and Material and Innovative Design.
| Category | Environmental Impact | Points Accumulated |
| --- | --- | --- |
| Water Efficient Landscaping Reduce by 50% | Requires no water | 1 Point |
| Water Efficient Landscaping No Water Use | Requires no water | 1 Point |
| Recycled Content: 10% | Utilizes post consumer waste | 1 Point |
| Recycled Content: 20% | Utilizes post consumer waste | 1 Point |
| Innovation in Design | Unconventional material application | 1-4 Points |
---
Specifications, Design, Marketing Resources
---
Product
Specs
Testing
CAD
Warranty
AST AmeriPet
AST AmeriPet
AST AmeriPlay
AST Celebration 75
AST ELITELAWN
AST Epic MAX
AST Epic XL
AST Fresh Cut
AST Modern Cut
AST Premier Cut
AST Shot Maker II
AST SuperScape 50
AST SuperScape Max
AST SuperScape XL
Cascade
Cascade Light
---